Heather Nelson, age 23, had a very stressful pregnancy,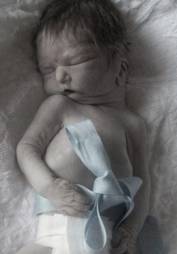 chasing after her two-year-old daughter and worrying about keeping her unborn baby as healthy as possible. Worse yet, she wasn't able to have the fun of planning for the new baby to come home and buy new baby clothes. Nelson was facing every mothers' worst nightmare, worrying about how she is going to explain to her young daughter why her new baby isn't coming home and planning her unborn child's funeral.
In the fifth month of her pregnancy, Nelson was told that her baby was going to be born without kidneys—a rare and fatal condition known as Potter's Syndrome. "Every time I hear of another baby being diagnosed with Potter's Syndrome it just breaks my heart. But I know that God chose each one of us mothers, we are the Earth's angels, chosen to carry these special babies to the arms of Jesus," Nelson tells SciJourner.
Fetuses afflicted with Potter's Syndrome lack one or both kidneys before birth, according to potterssyndrome.org, a website run by a mother who lost a child to the syndrome. Having your kidneys in the womb is very important, because they are fundamental for the production of amniotic fluid. The amniotic fluids expand the womb around the embryo and help it form into a fetus. Without the amniotic fluid; the womb remains petite, thus leaving the baby's lungs undeveloped.
Most babies with Potter's Syndrome are stillborn, but the ones that aren't, usually live for one or two days after birth due to undeveloped lungs making it hard for the baby to breathe, according to potterssyndrome.org and the Minnesota Department of Health website.
Males have a higher chance of getting Potter's Syndrome because they have a higher rate of another problem, Eagle-Barrett Syndrome—poor development of the abdominal muscles, causing the skin of the belly to wrinkle, according to emedicine.medscape.com (registration required), a medical reference site run by webmd.com.
Potter's Syndrome is not a single problem. There are four different types of the syndrome now recognized, with different causes, according to potterssyndrome.org.
There is not much known about the cause of the syndrome. Scientists suspect that it may be linked to the formation of the gonads—testes in males and ovaries in females. The tissue that gives rise to the gonads and the kidneys is the same for females and males. In fetuses, the testes and kidneys form at the same time but the ovaries form after the kidneys, according to potterssyndrome.org.
The physical features of babies that are diagnosed with Potter's Syndrome are flattened noses, recessed chins, low-set ears, Eagle-Barrett Syndrome, stretchy skin and limb anomalies, says emedicine.medline.com.
"I saw a daddy out on a Valentines 'date' with his young daughter back in February, it was so sweet," recalls Nelson. "But it broke my heart. That could've been me, I could have taken Rhyan out on a mommy and son 'date' for Valentines. I may never get to take my son out for Valentines Day, but I do have the privilege of saying my Valentine this year is an angel…"

This work is licensed under a Creative Commons Attribution-NonCommercial-NoDerivs 3.0 Unported License