"Do you live to eat, or do you eat to live?" asks Youth Exploring Science (YES) Supervisor Joshua Sams. Think of a wonderful McDonald's lunch a cheeseburger, medium French fries, a medium drink, and an apple pie compared to the typical YES lunch of a ham or turkey sandwich. Which one would you prefer?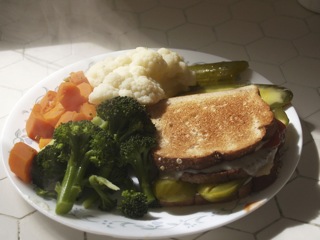 Diabetes, high blood pressure, clogged arteries, and obesity are just a few of the major health risks, according to kidshealth.org, that today's youth face when they put fast food like a McDonald's lunch in their tummies everyday. According to the Centers for Disease Control, the current generation is the youngest group of people to have such severe health problems. But are there better choices to make when picking a lunch?
At the Taylor Community Science Resource Center, lunch consists of a turkey and ham sandwich with American cheese, miracle whip, a small bag of chips, a juice box, and an apple or the teens can go to the local stores or fast food restaurants. According to YES Supervisor Joshua Sims, the lunch is served to about 15 to 100 teens on average, which results in about 80 sandwiches being made and eaten per day (excluding those that just eat chips or drink a juice box).
A McDonald's lunch has 1050 calories, 44 grams of fat, 1195 milligrams of sodium, according to McDonald's website. On the other hand, a lunch with turkey at the Taylor Center contains 650 calories, 20.5 grams of fat and 1455 milligrams of sodium, according to information on food labels. Replace the turkey with ham and the lunch has 660 calories, 21.5 grams of fat and 1455 milligrams of sodium. Which is a 400 and 410-calorie difference, and a bonus is that the lunch at the Taylor Center is free unlike the $6 or $7 you might spend everyday going out to eat. KiOntey Turner