It is that time again for Katja Miller, a high school junior and dedicated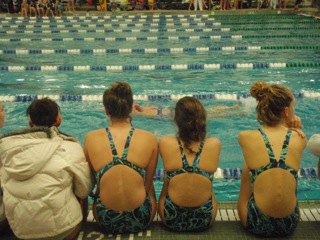 swimmer for the Clayton Shaw Park (CSP) Tideriders in Missouri, to begin swimming and diving season. She has her new cap, goggles, and, most importantly, a new Lycra swimsuit. A few weeks into the season, she notices that her suit is fading and starting to stretch. The nylon in Lycra suits does not last very long. By the end of the season, Katja, like most competitive swimmers, goes through two or three suits. "I'm ready for a suit that will last," says Miller.
According to Jennifer Shurmur, a former swimmer and now a swimming parent, swim suits have been made of cotton, wool, nylon, and polyester. These fabrics are thicker and force the swimmer to do more work by pulling more weight, which helps the training.
What these suits lack is comfort. Some swimmers tend to get rashes where the suits rub. Ellie George, a high school freshman and an elite swimmer who has swum for nine years with the CSP Tideriders, says, "I do not buy Speedo Endurance [polyester] suits anymore because they are very tight and irritate my skin." She now buys Nike nylon suits. "They do not last as long, but they are much more comfortable."
On the other hand, Etinosa Ogbevoen, another elite swimmer for the Tideriders, says, "If I buy a polyester suit, I expect it to last a long time because I pay so much for it." She has been swimming for 13 years and is a strong support of these suits. Andrew Fleisher, a member of the Jersey Wahoos' national swim team in New Jersey agrees. "Speedo Endurance [polyester] suits are the way to go."
Chlorine is placed in swimming pools because it kills germs and bacteria in the water. According to Environmental Protection Agency, the chlorine in the swimming pools prevents disease. The chlorine in the pool water causes most of the wear and tear, because chlorine "eats away" at the fabric. The most noticeable changes are color changes and the fit. According to the Journal of the Society of Dyers and Colourists, chlorine attacks the elastic part of a fabric that stretches and fades the color of the fabric. Fabrics with little to no elastic will be unaffected or less affected by the chlorine.
Cotton, which is made of mostly cellulose and water, doesn't tend to stretch, according to Cotton, Inc. Polyester made from polyethylene terephthalate, which is the same chemical found in plastic bottles, also doesn't tend to stretch. The fabrics that tend to stretch more are wool and nylon.
The newest of Speedo's practice suits is the chlorine-resistant, polyester Endurance. They tend to fit much tighter than Lycra, but are much more expensive. On the other hand, the colors in these suits also do not fade as easily as with Lycra. According to Speedo, the Endurance suits create a significant amount more drag in the water while the swimmer is training because of the thicker fabric. This means that the swimmer must pull harder to move through the water.
Lycra or nylon suits, on the other hand, are made of a nylon–spandex blend. Less dedicated swimmers tend to buy these suits because they do not need a long-lasting suit, have less drag and are much more comfortable. However, these suits are better for swim competition.
Scientists are developing newer suits that last longer and are comfortable to wear during training. For example, Speedo is making a 100% chlorine proof suit called Endurance Speedo Plus. "These newly developed suits have changed my training and swimming for the better," says Miller. "They have saved me both time and money because I don't have to buy suit after suit. I couldn't imagine training without them."

This work is licensed under a Creative Commons Attribution-NonCommercial-NoDerivs 3.0 Unported License