Many former catchers will tell you that they would never trade their experience as a catcher for anything. However, the excessive squatting required in the position often leaves long-term injuries on the catcher's knees.
"I want to go to college and play softball, just not as a catcher," says Brittni Hagemier, age 17, from Elsberry High School. "It just hurts too bad and I don't want to keep doing something that will permanently damage my knees."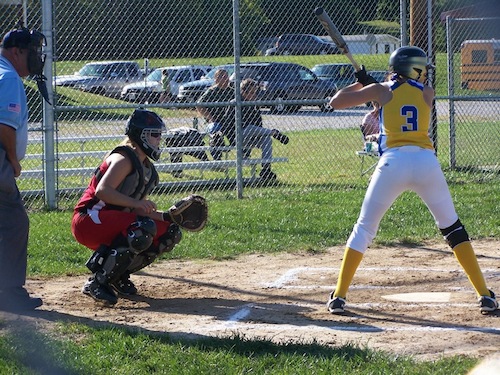 Hagemier was an All District and All Conference catcher in the Eastern Missouri Conference for two years, and this year she was selected All Region, as well. She has been catching for three years,
The pain was present the first game she played this past year. She says it hurts to walk and run, and after running she says she feels like laying down and not moving due to the pain.
"Doctors told me that the tendon moves back and forth over my kneecap and is the cause of the pain." Her knee is bigger than ever before and is constantly swollen. "The pain is constantly increasing so before each game I have to take four ibuprofen to try and lessen the pain for when it comes," says Hagemier.
According to Sandy Miller, a physical therapist at Advance Physical Therapy located in Silex, MO, catchers are most susceptible to knee injuries at the ages between 10-15 years old. Injuries are also likely when catchers are going through large growth spurts.
Miller also says that less than 10% of the clients she sees are due to softball injuries. However, out of that 10%, 50% are from catchers.
Trudy Bull, a softball coach at Elsberry High school for 16 years, was a catcher from middle school up through college, stretching over a 10-year period. "The experience was great but I now face the consequences everyday," states Bull.
The movements catchers use cause the break down and degeneration of the cartilage of the knee, according to Wesley Pennington, with Bio Mechanics Research Department, Steadman-Philippon Research Institute, in Vail, CO. The torque associated with the painful conditions and stresses that catchers go through, such as repetitive incidents or lower magnitude forces, ultimately make catchers more susceptible to knee injuries than any other position on the field. According to Pennington, the excessive squatting required in the position leaves long time catchers prone to permanent damages of the muscles within the knee.
One of the most popular ways to help prevent the injuries is using knee-savers, which are little blocks attached to the back of the shin guards. These are used to increase the angle between the knee and thigh. However, no scientific studies have been conducted to prove how efficient they actually are, says Pennington.
Injuries are not just due to inexperience. Injuries occur in the major leagues as well. Jason Castro, who plays for the Houston Astros, had to get surgery on his right knee last March. He had torn his ACL, which is the anterior cruciate ligament, while catching in a spring training game.
Miller says that one source of knee pain is the poor tracking of the patella, which is the kneecap, caused in the weakness in the hip and quadriceps.
To guard against injury, many catchers do a variety of stretches before and after a game or practice. This will not only help them gain flexibility, but also strengthens the muscles. The most common stretches are squats and lunges, according to Miller. These types of workouts require maintaining the correct form to avoid damaging the muscles or causing knee pain. It is also recommended to jog beforehand so that muscles are loose when it comes time to stretch. When stretching, it is common practice to focus on the groin and hip areas so that nothing is pulled. Catchers should also stretch out after a game to allow the muscles to wind down slowly.
After an injury or when you feel pain, Miller recommends that you see a physical therapist as soon as possible so that you are able to recover and continue catching. You should also get a "patello-femoral brace" to help by keeping the kneecap aligned. Icing can also help the recovery.
"Icing causes reflexive heating, which brings in a healthy blood flow to the areas, thereby helping with healing and a decrease in inflammation and in pain," says Miller. Ice should be used for only 10–20 minutes at a time. This should be done after the sport or, if swelling is present, throughout the day. Madison Cleveland

This work is licensed under a Creative Commons Attribution-NonCommercial-NoDerivs 3.0 Unported License