Acoustic guitar manufacturers in the United States often build with hardwoods not native to the region. Traditional acoustic guitars use mahogany, a wood native to South America and parts of Asia. However, one guitar company located in Bend, OR, has developed a unique line of acoustic guitars that is primarily composed of woods native to the U.S. Pacific Northwest.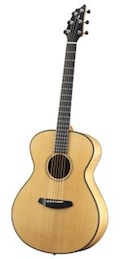 Utilizing exotic woods can create various environmental issues in respect to conservation, timber management and ecological restoration. Additionally, importing exotic hardwoods into the United States can be remarkably costly, time-consuming, and can often yield serious agricultural consequences. For example, the Emerald Ash Borer, an insect brought to America through tires and crates imported from Asia, is responsible for the large-scale devastation of entire forest ecosystems by killing Ash trees.
Breedlove Guitars has recently released a new line of acoustic guitars entitled "the Oregon Series". Two Old Hippies, the parent company to Breedlove, announced release of the Oregon Series at the 2013 National Association of Music Merchants Show in Anaheim, CA.
"The Oregon Series is 100% Oregon made. We're starting with the Oregon Myrtlewood, indigenous to the state of Oregon" says Ryan Bouslaugh, artist relations and marketing for Two Old Hippies. "It's a beautiful wood and a beautiful sounding wood as well. Top that with some Sitka Spruce, out of the Alaska area, and a Maple neck, [which is] always wonderful.
Since 1990, Breedlove Guitars has produced top-quality guitars and mandolins, using Oregon Myrtlewood, among other species of tone woods. Guitar manufacturers utilize mahogany, spruce, ebony, rosewood, cherry-wood and other woods that can often be difficult to find and harvest. Oregon Myrtlewood, although native, can also be difficult to harvest, as a result of a deep, burrowing taproot, and prolonged growth. According to myrtlewoodgallery.com, Oregon Myrtlewood grows about one foot per year, reaching maturity in 60-120 years. An Oregon Myrtlewood can only be harvested upon reaching maturity.
However, a patented technology designed to target these characteristics, such as a deep taproot, prolonged growth and minimal survivability in nature, can potentially increase the growth and survivability of Oregon Myrtlewood in nature. "The Root Production Method (RPM) technology, was originally designed for application to the genus Quercus (oak) native to the Midwestern United States", explains Wayne Lovelace, developer of the RPM technology. Through propagation, the technology can effectively be applied to Oregon Myrtlewood to determine if "the tree has the potential to reach maturity in one-third the time, have a 90-95% survivability rate, and produce 2-3 times the number of saw-quality logs per acre in half the time at the same total cost", says Lupe Rios, propagation expert for the RPM technology. These results of the technology have been researched and vindicated by the Agroforestry Department at the University of Missouri in Columbia.
"We're very excited about the new Oregon Series", explains Bouslaugh. Utilizing almost 100% USA-grown wood in a guitar series is an initiative taken by few other guitar companies. Breedlove has released three models of the Oregon Series: the C20/SMYe concert, the D/SMYe dreadnought, and the OM/SMYe orchestra. Breedlove Oregon Series guitars are priced at $1,499. Bo Young

This work is licensed under a Creative Commons Attribution-NonCommercial-NoDerivs 3.0 Unported License