"I had no clue that makeup went bad," says Lindsey, a student at Washington High School. "I've had some makeup for years."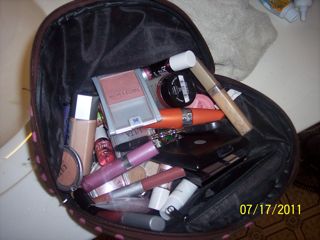 Not everyone knows how long you are supposed to keep makeup before it needs to be thrown out. Some don't even know you're supposed to throw out makeup. And, although many teenage girls wear makeup, few are aware of what can happen when they apply cosmetics after they've gone bad.
According to a May 18, 2008, article in the Roanoke Times, a Virginia-based newspaper, "Beauty products go bad. At best, they stop performing as well as they used to, and at worst, they can cause irritations or infection."
Many girls share makeup, which can spread these infections. WebMD tells us that this is often how diseases like pinkeye get spread around.
So why do these cosmetics go bad? It's because the high water content in cosmetics creates conditions that lead to bacteria in the products, and oxygen and sunlight make it worse, says Natasha Mann, a freelance health journalist. When you pump oxygen into store products that are in direct sunlight, or add water, bacteria thrives. This, in turn, makes infection thrive.
Makeup only stays safe for so long. How long varies, but most powders should be thrown after a year, liquids after six months, and mascara after three months, according to the experts at Good Housekeeping.
A recent survey conducted by this reporter with 20 women, ages 13 to 50, found that only 66% knew makeup expired. Even worse, only 33% actually throw out old makeup.
Sometimes this lack of knowledge can be dangerous. According to Sarah Smith, formerly a writer for Real Simple magazine, expired skin care products will lose effectiveness after their expiration date.
The effects of expired sunscreen however, are much worse. Without getting the sun protection you think you're getting from your sunscreen, you can come home with a bad sunburn and an increased risk of getting skin cancer, according to Kathleen M. Cronan, M.D., an Associate Professor of Pediatrics at Alfred I. duPont Hospital for Children in Wilmington, DE.
"I'll defiantly pay more attention to my makeup and when it expires now," Lindsey says, "I never knew what could happen."

This work is licensed under a Creative Commons Attribution-NonCommercial-NoDerivs 3.0 Unported License