According to the American Dental Association, soda can erode tooth enamel. However, what most people do not know is that sports drink might erode teeth as well. Soda's acidity is the reason soda can soften teeth enamel. If sports drinks are acidic enough, they can erode tooth enamel too. [See: Can Sports Drinks Lead to the Erosion of Tooth Enamel?]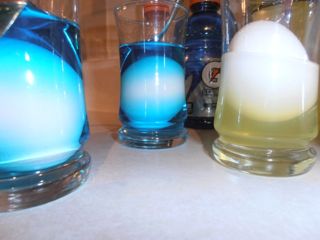 In this experiment, the pH of six different sports drinks: Gatorade, Powerade, MVP, Propel, SoBe, and Vitamin Water, was tested and recorded using a pH testing kit. Then, the yolk of 18 eggs was blown out of the eggs without cracking the egg shells.
Egg shells and teeth are similar in the material makeup; egg shells contain calcium carbonate and teeth contain calcium phosphate. This similarity allowed egg shells to represent teeth.
Each sports drink was then placed in a glass with an egg for one hour for trial one, two hours for trial two, and three hours for trial three. The lower the pH of a liquid was, the softer the eggshell (representing a tooth) became.
The only two drinks that definitely softened the eggshell were Gatorade and MVP, both drinks with a pH value of 4.0.
The hardness of the egg shell was tested before being placed in the sports drinks using the Mohs Hardness Scale. The egg shell's hardness was between 2.5 and 3.0; it was able to be scratched with a penny, but not with a fingernail. A penny has a known hardness of 3.0, whereas a fingernail has a known hardness of 2.5.
After each eggshell was in the sports drink, the hardness of the shell was tested again. The two egg shells that were in Gatorade and MVP were now able to be scratched with a fingernail.
The other drinks might have softened the eggshell, but the hardness of the eggshell was in the same range as the hardness of the eggshells that were originally placed in Powerade, water, Propel, SoBe, and Vitamin Water. Therefore, it cannot be determined if these drinks softened the eggshell. In a future experiment, researchers might be able to get a more specific hardness of the eggshells if more minerals with a known hardness are available to them.
Sports drinks are very popular among athletes and non-athletes. According to the American Dental Association, "The consumption of soft drinks, including carbonated beverages, fruit juice and sport drinks, in the United States has increased by 500% over the past 50 years." Athletes drink sports drinks to increase their energy during a game. Many of my classmates also drink sports drinks either to replenish the liquid they have lost when exercising or for the taste.
According to the International Dental Health Foundation, acidic drinks can soften tooth enamel. Enamel is the layer on the very outside of the tooth. It protects what is inside the tooth and if it is softened, it can lead to tooth erosion. Sports drinks are considered to be weak acids. That is why in the experiment the sports drinks that were the most acidic were the drinks that softened the eggshell the most. Catherine Gloss

This work is licensed under a Creative Commons Attribution-NonCommercial-NoDerivs 3.0 Unported License