Students share musical instruments all the time. Students share instrument because they leave their instrument at home, need to borrow an instrument for practice or have a broken instrument. I know this because in my orchestra class students share instruments all the time!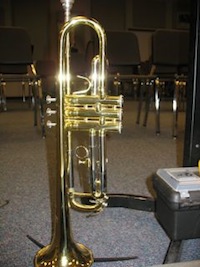 Bonnie Marshall Ph.D., a Medical Technology Research Associate, and Stuart Levy, with the Medical School at Tufts University in Boston, reported in May, 2011, that wooden reeds and mouthpieces harbor the greatest amounts of bacteria. Marshall, along with fellow researchers, found that bacteria in a clarinet survived for hours to a few days. A deactivated strain of tuberculosis bacteria survived for up to 13 days!
Marshall and her peers collected samples from 20 clarinets, flutes, and saxophones. The researchers found living bacteria, mold and yeast on all the instruments. The yeast around the instrument can cause skin infections around the mouth and lips. The mold in the instrument could contribute to the development of asthma.
In another study, used woodwind and brass instruments were found to be the most contaminated with a variety of different bacteria and fungi. Many of the instruments were affected with minor to serious infections and allergic diseases, according to a study published in the March/April 2011 issue of General Dentistry the peer-reviewed clinical journal of the Academy of General Dentistry (AGD).
One hundred seventeen different sites on the instruments, including the mouthpieces, internal chambers, and cases, were tested on 13 played instruments of a high school band. Six of the instruments had been played for a week of testing; seven had not been played in a month. The instruments produced 442 different bacteria; some of the bacteria were species of staphylococcus, which can cause staph infections. The bacteria in musical instruments can cause illness in a human body and the bacteria are highly resistant to the antibiotics normally prescribed by general practitioners, the researchers said.
The staff at the Doo-Wop Shop, which sells new and used instruments, in Louisville, KY, says they do clean, disinfect, and sterilize the instruments by cleaning the outside and then taking the item apart to clean the inside. The Poway Pawn Shop in Poway, CA, says that they also clean, sterilize, and disinfect the outside of the used instruments but they don't take them apart to clean!
To keep an instrument from developing bacteria, the surfaces where the skin and mouth come into contact with your instrument should be frequently wiped down. The instrument should also be taken apart for thorough cleaning on a regular basis. Do not share your instruments with friends or others. Students should also ask their instructor for additional ways to disinfect their instrument, according to AGD.
However, the toxic gas ethylene oxide is the only way to sterilize the instrument without doing any damage to the instruments parts, but it does not reduce the right amount of germs to prevent diseases, according to Richard Thomas, a microbiology professor at Oklahoma State University's Center of Health Sciences in Tulsa, OK. Jordan Baker

This work is licensed under a Creative Commons Attribution-NonCommercial-NoDerivs 3.0 Unported License