Two varieties of citrus rootstock propagated and grown through a patented methodology grew significantly faster compared to traditional methods. Research conducted using the Root Production Method (RPM) suggests that this technology is capable of producing plant material with an accelerated growth that 2–3-times faster than traditional plant material.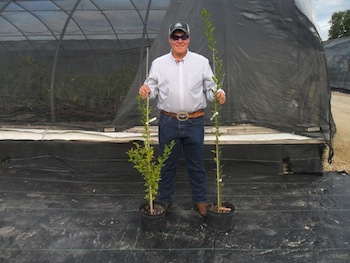 We were very skeptical at first," begins Lupe Rios, propagation expert of Forrest Keeling Nursery in Elsberry, MO. "Once the seed germinated, we knew the project had a lot of potential. We're not used to growing non-natives [plants], however this project is going very well".
Carrizo Citrange and Swingle Citrumelo, two varieties of citrus root-stock that produce hybrid oranges, were first propagated through the RPM Technology in 2011. This study is currently ongoing in order to determine if the technology continues to yield beneficial results with the citrus material.
After two years, the Carrizo Citrange that was grown traditionally had an average height of 24 inches, while RPM-grown Carrizo Citrange has reached heights over 48 inches. Results were similar with Swingle Citrumelo, with heights above three feet, while the non-RPM grown material averaged heights that did not exceed 22 inches.
The study involved 200 plants belonging to each variety, for a total of slightly more than 400 plants altogether. Of the 200 per variety, 150 have been propagated through the RPM technology and 50 grown conventionally.
"The [RPM] Technology is a combination of practices designed to provide plants with a more fibrous root mass, leading to 90-95% survivability in nature and accelerated production of fruits and nuts," explains Wayne Lovelace, developer of the RPM Technology and C.E.O. of Forrest Keeling Nursery.
Lovelace continues by explaining that the technology is "a combination of various horticultural applications and practices designed to enhance the root mass of plant material for enhanced nutrient uptake. The enhanced uptake of nutrients then provides faster-growing trees with high survival rates."
So what's next? "All plant material in the study will eventually be moved into a larger container to satisfy the fast-growing root system" explains Rios. "Once the citrus is too large for container production, arrangements will be made with either an interested grower or nursery in a climate zone suitable for the citrus." The plant material will perish if they are subject to prolonged exposure to temperatures at or below 32 °F. The plant material is currently small enough to be placed in climate-controlled storage units during the bitter cold of Missouri winters. "If a grower cannot be found, the plant material will be available for single purchase for a period of four months. Upon conclusion of the four months, the material will be destroyed," explains Rios.
"The study will be duplicated next year to provide information about the technology to a Fortune-500 company interested in RPM-grown citrus material," adds Rios. Bo Young