by Nora Salmon; St. Joseph's Academy (St. Louis, MO)
Social networking can help connect people with friends, give people the chance to share pictures online, and help people who live far apart communicate easily. According to data collected by Facebook in 2012, the company averages over 618 million active users per day and over a billion active users per month. But does too much time social networking interfere with students' schoolwork?
Several studies have shown conflicting results about the effects of social networking on students' grades. One 2010 study, conducted by the students in the Business and Economics Department of The University of New Haven, surveyed 1,127 students and showed that only 37% of "heavy" media users reported lower than average grades, while just 35% of "light" social media users had reported lower than average grades. In this study, there was no apparent correlation between an excess of social media usage and a below average G.P.A.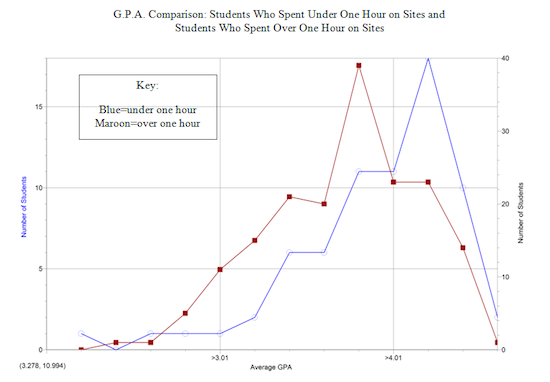 Other studies have found a clear negative relationship between social media usage and average G.P.A. Rey Junco, a professor at Lock Haven University, published a study in 2011 that stated that "sending text messages and using Facebook while doing homework were negatively related to overall G.P.A." The study found that G.P.A.s of frequent Facebook users (every day at least) was a range of approximately a full point lower than those of nonusers—3.0-3.5 for users vs. 3.5-4.0 for nonusers.
Neuroscientist Susan Greenfield at Oxford University in England also believes that social networking sites can have a negative effect on schoolwork and can even stunt the brain development of teens. In February 2011, she issued a statement to the British House of Lords that social media sites are "'infantilizing the brain'…by shortening the attention span and providing constant instant gratification."
Now, a study conducted by the author in spring 2013 from St. Joseph's Academy finds that social networking does seem to have a negative effect on the GPA of high school students. The new study surveyed 250 students and found that 43% of the students who spent less than one hour on social networking sites per night achieved a G.P.A. of 4.0 or above. Conversely, only 22% students who spent more than one hour per night on social networking sites reported a G.P.A. of 4.0 or above. This shows that using over an hour on social networking sites (or their phones) per night may negatively affect a student's GPA.
One junior reported in the free response section that checking text messages and Facebook on her phone was the biggest obstacle to her homework. Another student, a senior, stated, "I open my Calculus binder, spend ten minutes checking my phone, open my Calculus book, spend fifteen minutes checking Facebook…"
Some students are turning to software such as "Block Facebook" that blocks certain sites on their computer, or allots them only certain amounts of time on Facebook, Twitter, and/or Tumblr each day. That way, students reported, they force themselves to concentrate on homework. Students who use Internet Explorer can block certain sites using their tools and settings.Nora Salmon

This work is licensed under a Creative Commons Attribution-NonCommercial-NoDerivs 3.0 Unported License