Looking For Miza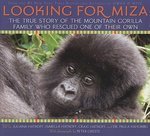 Authors: Juliana Hatkoff, Isabella Hatkoff, Craig Hatkoff, and Paula Kahumbu
Illustrators: Juliana Hatkoff and Isabella Hatkoff
Pages: 30
Publisher: Turtle Pond Publications LLC.
ISBN: 0-545-08540-3
Price: $16.99
Reading Level: Grades 1-3 (ages 6-9)
This book is about a family of gorillas in the Virunga National Park in the Democratic Republic of Congo. Miza was a very curious gorilla that liked to explore. One day she decided to go and explore the forest, but she never came back. So, her mother came looking for her and sadly she got lost, too. Miza's father, Kabirizi, being the leader of the largest family of mountain gorillas in Virunga Park had to take care of 31 gorillas, and make sure that they were safe. Nevertheless, Kabirizi went looking for Miza and Miza's mother. For a couple of weeks later there was no sign of Miza or her mother, until one day Kabirizi saw Miza in a bush.
I think that this book should be read to little kids, because they would enjoy learning about gorillas. But personally I think that 9 to 11 year olds would like this book if they picked it up off the shelf. Little kids in grades 1 to 3 would not understand the purpose of the book. They would just look at the pictures and say, "Oh look monkeys!" But if you actually sit down and slowly read the book to them, and try to explain the story to them, then they'll start to understand it better.